The Ecumenical Vatican Council II: A Much Needed Discussion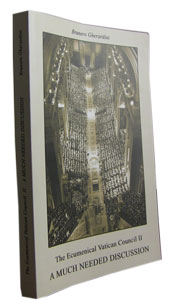 Please note: this title is currently backordered and might be out of print. We apologize for the inconvenience.
By Monsignor Brunero Gherardini
An elaborate theological meditation from which arises the need of a true "hermeneutic of continuity" regarding the teaching of Vatican II.
"The book ends by requesting that the Supreme Pontiff, "clarify definitively every aspect and contents of the last Council. Such omnia reparare [reparation of everything] could be accomplished through a great papal document, which would go down in history as a sign and witness of the vigilant and responsible exercise of His ministry as the Successor of Peter."
I would think that the arrival of such a book is an occurrence of major import. First, it is authored by a weighty and respected theologian, who is a priest in good standing with the Church — not a man that can be taken as a spokesman for a movement, a mere controversialist, or an "interested party" in the debate. Second, its forward and preface are by two seated diocesan ordinaries (one, a former Roman curial official who may well return to the Holy See one of these days). Third, it is published by a publishing house attached to a vibrant and young branch of the Franciscan Order, raised to Pontifical Right status by none other than Pope John Paul II. That Order itself boasts some accomplished theologians (such as the American, Father Peter Damien Fehlner, FI). Finally, if Mr. Zangrando's contacts are correct, and the book is indeed on the Pope's desk, the Roman Pontiff may choose to respond positively to the just-quoted respectful appeal made to his authority, or at least pave the way for his successor to do this.
If the passages provided by The Latin Mass are any indication, Vatican Council II: An Open Discussion may also provide a wonderful catalyst for the Rome-SSPX dialogue." — By Brother André Marie